Overview
Every year, thousands of people travel to Italy for her gorgeous vistas, to see her historic cities, and to admire her historical and architectural landmarks and structures.  It's no wonder that places like Rome (Italy's capital with over 3 million inhabitants), Genoa, and Naples attract domestic and global travelers year-round to Italy. Italy extends from southern Europe bordered by the Pyrenees to the west, the Adriatic Sea to the east, and the Ionian Sea to the south. The Mediterranean country, which also includes the islands of Sardinia and Sicily, offer visitors a wealth of things to do and places to see.
Brief History
Rome is often referred to as the foundations of modern civilization. From the days of the Roman Empire and through the Dark Ages, Italy has long held a place of importance in global economies, advancements, and technologies. Presence of early man has been found throughout Italy, and Rome herself was founded around 753 B.C. to become the center of European arts, development, and growth for centuries. Throughout the Dark Ages and Renaissance periods, Italy maintained a huge influence not only over neighboring countries, but the world. For centuries, Rome has been considered the center of Western religion, home to the Vatican and the foundation of the Catholic Church. From Lombardi in the north to Sicily and the south, Italy offers something for everyone.
Languages and Religion
The main spoken language in Italy is Italian, although a variety of linguistic groups and minority language are also prevalent and include Greek, Franco-Provençal, Sardinian, and Catalan.  Eighty percent of Italians are Christian, but the Muslim population is growing, while a small percentage of Italians claim atheism or agnosticism.
Climate
A large bulk of Italy is mountainous so the country experiences a wide variety of climate diversity from humid and subtropical in inland regions to more temperate climates along the coast lines.  Higher altitudes throughout Italy's mountain ranges produce wet, heavy snow in winter but along the coastline, the winters are generally mild. Check weather conditions in various regions of Italy before traveling to ensure that you bring adequate clothing.
Places and Cities to Visit
One would be hard-pressed to choose five or 10 of the most popular cities in Italy, but at the top of the list ranks Rome, Milan, Naples, Turin, and Palermo.  . Italy is home to 49 UNESCO World Heritage Sites. Some of these sites include the cities of Verona, Rome, and Florence. Rome alone has numerous historical and architectural sites to visit, including:
The Coliseum
The Pantheon
The National Roman Museum
Trevi Fountain
Aventine Hill
The Roman Forum
Ride through Venice on a gondola, view Leonardo da Vinci's masterpiece painting "The Last Supper" in Milan, or walk through the Vatican museums and St. Peter's Basilica. Visit the ancient ruins of Pompeii. One could easily spend months touring and traveling through Italy and viewing all her architectural sites and landmarks, historical points of interest, beautiful architecture.
Car Hire Services
When renting a car in Italy, travelers need to follow guidelines that not only provide information regarding the documentation and printing process, but also driving regulations. No matter where you're from, it's always recommended that you obtain an international driver's license before renting and driving a car in Italy.
Some of the most popular car hire agencies in Italy include:
Compare rates and vehicles before singing on the dotted line. When choosing a car hire agency, ask about local laws regarding items that must be kept in the rental car at all times. Car rental agencies in Italy are found at airports and most cities.
Driving Regulations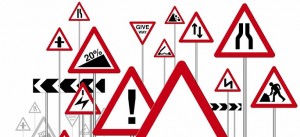 Before driving in Italy, learn the rules of the road. In order to drive in Italy, you need a driving license that has been issued by any EU member state. Otherwise, an international driving permit or a notarized translation of a license from your country of origin is required. In addition, no one under 18 can drive in Italy. Safety or reflective vests are also required. Don't leave the rental car agency without them, and make sure that they're in the car, not in the trunk in order to comply with local laws.
You drive on the right hand side of the road in Italy. Newcomers to Italy should be aware that in some towns, honking your horn is only allowed in emergency situations. Keep in mind that trams and trains have the right-of-way.
Seatbelts are compulsory for front and rear seat passengers. If you're caught driving without them the driver and passengers can be fined. Drivers are required to turn headlights on at any time while driving, daytime or nighttime. Fines are issued on the spot in Italy. Obey speed limits. Following is a breakdown of general speed limits in Italy, but always follow posted signage throughout the different regions of the country.
Urban areas – 50 km an hour (31 mph)
Smaller or minor roads out of town limits – 90 km an hour (56 mph)
Larger or major out-of-town roads – 110 kph (68 mph)
Motorways – 130 kph (81 mph) to 150 kph
Be aware that speed limits may decrease depending on weather situations that include rain or snow. Do not drink and drive in Italy. The blood alcohol limit in Italy is 0.5 g per liter. Driving with a blood alcohol content 0.5 to 0.8 will get you fined €500 to €2,000.  Fines double if you cause an accident. Be aware that any driver under 21 years of age who has not had a driving license for more than three years cannot drink any alcohol and drive.
Sources: